Have you ever thought about running Facebook Ads to find new clients for your freelance business?
If you haven't tried it out yet, you should start now. As a freelancer, you can use Facebook's laser-like targeting to attract highly relevant prospects for your business. It can be daunting to get started with Facebook Ads, but it's actually simpler than you may think. Tools like Adflow.ai make creating new camapaigns a real breeze.
Let's explore how you, as a freelancer, can approach paid advertising on Facebook to find new customers.
How do ads on Facebook work?
The mechanics of Facebook Advertising are very straightforward:
Someone in your audience sees the ad
If they click on it, they are redirected to your website
Once they land on your page, you must capture their attention and lead them to what you want them to do
So how can you use these dynamics to your advantage? Most of us have probably been on the other side of this process (consuming the ads), so we all understand that Facebook users are not there to shop or make business. We use the social network to browse through video feeds or to catch up on the photos and posts of our friends.
This means that getting a Facebook user's attention is no easy task. Just posting 'hire me!' won't cut it. As a freelancer, you can use a proven marketing funnel that works like this:
Create a free token (lead magnet) that's highly relevant to your particular audience
Advertise this offer to your target audience
Give it away to them for free in exchange for their contact details.
Build a relationship and follow up through a series of emails.
This technique may sound counterintuitive at first. Why would you want to pay for to advertise something you are ultimately giving away for free? Let me explain.
Create a Lead Magnet
Lead magnets are incentives that you present to potential customers in exchange for the prospect's email address. Lead magnet examples include free reports, checklists, cheat sheets, white papers, e-books, video courses or other educational materials.
There are many types of lead magnets you can create to offer to your prospects. But a simple PDF works great and is very easy to do. Don't spend too much time on the format, focus on the content instead.
Start from your target audience. For example, if you are a web designer—are they small business owners who want to establish an online presence but don't know where to start? If you are a wedding planner—are they couples who may benefit from some insights on the right timeline to plan their big day?
Think about your target market's pain points, then create valuable content that solves their problems. For example:
8 Quick Tips to Improve Your Ecommerce Website Speed
Free Design Resources to Create Your Logo
3 Things to Check Before you Book Your Weedding Venuw
Don't give away all your expertise for free. Your content should be specific enough to showcase your value and to hook your potential clients into wanting to hire you. Make sure to let readers know you're available for hire.
Advertising on Facebook
Now that we have a clear strategy on how to get people interested in our services, it's time to set our Facebook marketing campaign up.
Setting up a campaign on Facebook is a two steps process: First you need to decide who you want to target, then, you must find the right message to target your audience with.
Most people focus on the first step and skimp on the second. That's because creating ads that work well is hard—but most of a campaign's success is actually driven by its creatives. A tool like Adflow can help your ad stand out thanks to its poweful AI enging, that can generate many ad variations for you in seconds.
Who to target on Facebook
Rememeber the audience you were creating your valuable content for? It's time to find them on Facebook.
Facebook's targeting options allow you to really hone in on the people you're looking for. Here are a few ways you can use targeting on Facebook:
You can target based on gender, location, age, interest and much more. If this is all too broad for you there are also different options within each category which gives you even more control.
You can exclude certain demographics from seeing your ad: This could be useful if you don't want to target people in other countries or in a certain age bracket (e.g. younger audiences).
In the example below, I have set up an audience to find those who are:
Living in London, UK.
Are 25 years or older.
Small business owners.
This is just an example to show you the potential for using Facebook targeting. I recommend you take a look at Facebook's resources for a more in depth overview.
How to make people click on your ads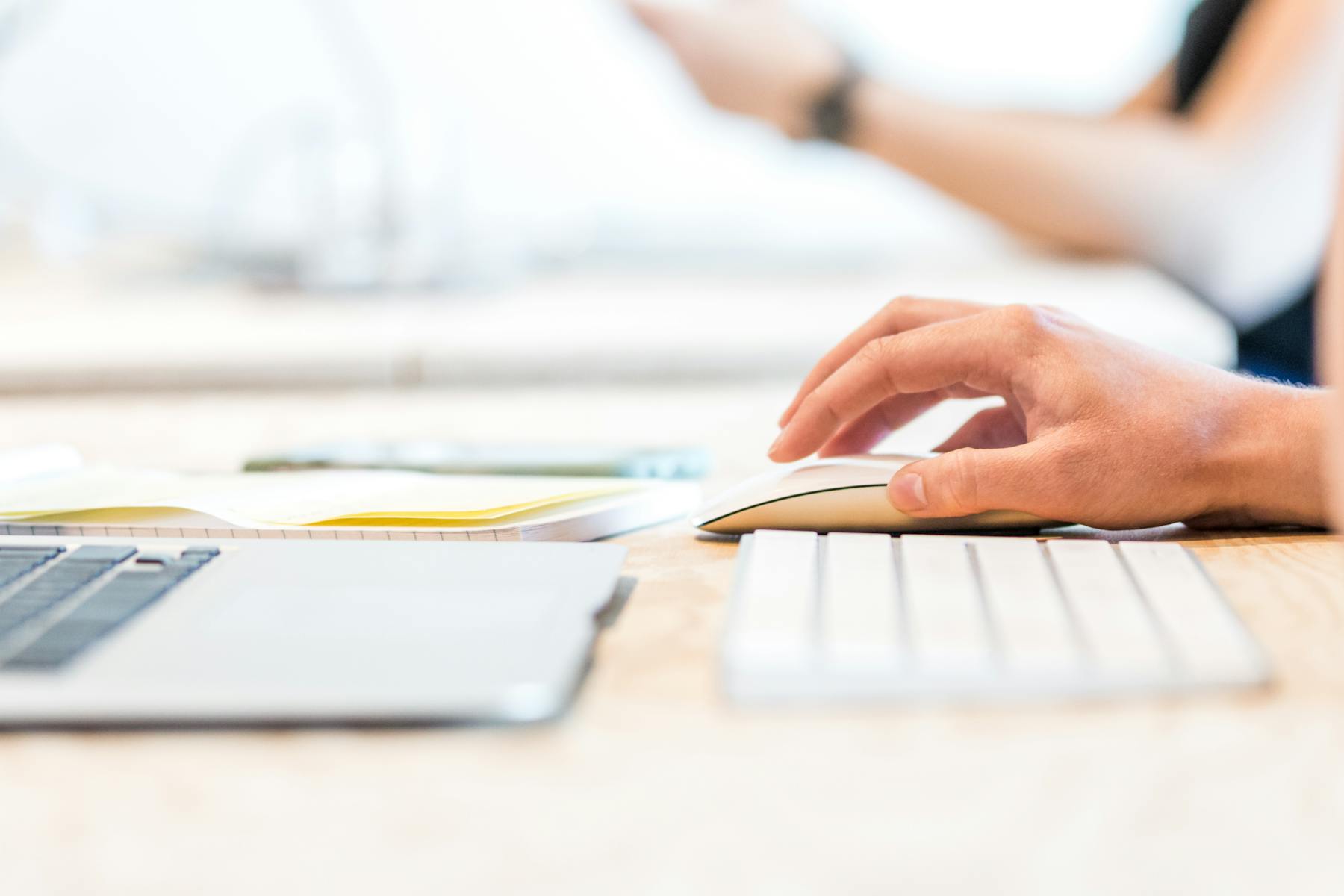 Your ad should "talk" to the users you're tring to reach. The more you can target your audience with an effective message, the better your chances for an effective campaign are (this is because people tend to click on ads that catch their attention).
Remember how the ad fits in your overall funnel:
The job of your ad is to get clicked by the right people.
The job of your landing page is to sell someone on your offer.
The job of your lead magnet is to cultivate someone toward becoming a client or referral source.
Facebook doesn't allow for too much text in your ads (or on your images), so you can't just write "Learn how to build a profitable restaurant website—free email course!" on your ad image. Images with people looking into the camera work best. Ads on Facebook look like newsfeed posts: would a friend post a promotional banner text?
Don't feel discouraged by the fact that creating ads that work on Facebook is hard. See it as opportunity: Wouldn't it be a lot easier if you had a team member who could do that for you? That's where Adflow comes in. We are an awesome tool that creates copy for your ads on Facebook, Google Search, Linkedin and more.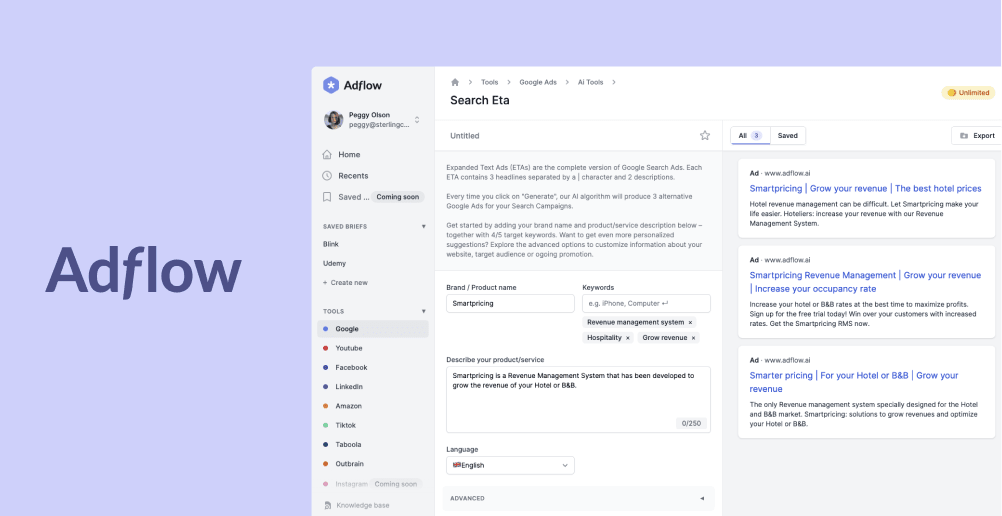 Finally, you should also make the most of the title and description for the linked page. Include the name of the email course here, with the details of it as the short description.
The cost of Facebook Ads
The good thing about Facebook advertising is that it can be very inexpensive to run your campaigns. You can start finding relevant clients with as little as $1.00 per day minimum budget.
---
To wrap it up
To sum up, Facebook is potentially a powerful source of targeted advertising revenue, allowing you to market to very specific audiences. With Facebook ads done right, you can quite efficiently attract leads for your freelancing business.
But capturing your audience's attention on Facebook so is no easy feat. Planning an effective marketing funnel that can attract customers with a lead magnet is only part of the strategy. You should also make sure to write an ad that can catch your audience attention while they are browsing pictures of their friends on the social network. Try Adflow for free and see how AI generated copy can help you make your Facebook ad campaigns more effective and reach new customers for your freelance business for less.